When choosing a CBD product, it's important you pay close attention to the safety and quality of those CBD products. This is especially true for lip balm because it's easy to ingest without even realizing it. 
In this article, we'll go over some of the benefits of CBD lip balm and what to look for while shopping around.
First, check the label. When shopping for CBD lip balm, it's important to ensure the product is made with a quality formula. Look for a link or QR code to third-party lab tests and make sure you're treating your lips to all-natural ingredients.
You may also encounter a fair number of unclear product labels that confuse hemp oil and CBD oil. 
The difference?
Hemp oil is a nutritious oil derived from hemp seeds. This superfood extract is rich in antioxidants and essential fatty acids. However, because it contains no CBD, it does not offer the same benefits.
CBD oil is extracted from the hemp plant and may contain secondary cannabinoids, terpenes, and other phytonutrients, offering greater benefits when absorbed into your lips.
Whether you live in an area with dry weather, eat lots of spicy food, or frequently lick your lips, it's all too easy to wind up with a smile that's looking a little crusty. 
Plus, our lips don't naturally produce oil like other areas of the body and are more vulnerable to the elements, causing them to dry out (frequently). 
CBD nourishes and soothes chapped lips by bolstering their natural moisturizing capabilities. A well-made CBD lip balm will also help seal that moisture in your lips, reducing the need for excessive reapplication throughout the day. 
Lip balm infused with CBD can also protect lips from the elements. The revitalizing properties of full-spectrum CBD soothe lips after a day in the sun and may reduce the harmful effects of overexposure under clear skies.
Hemplucid Full-Spectrum CBD Lip Balm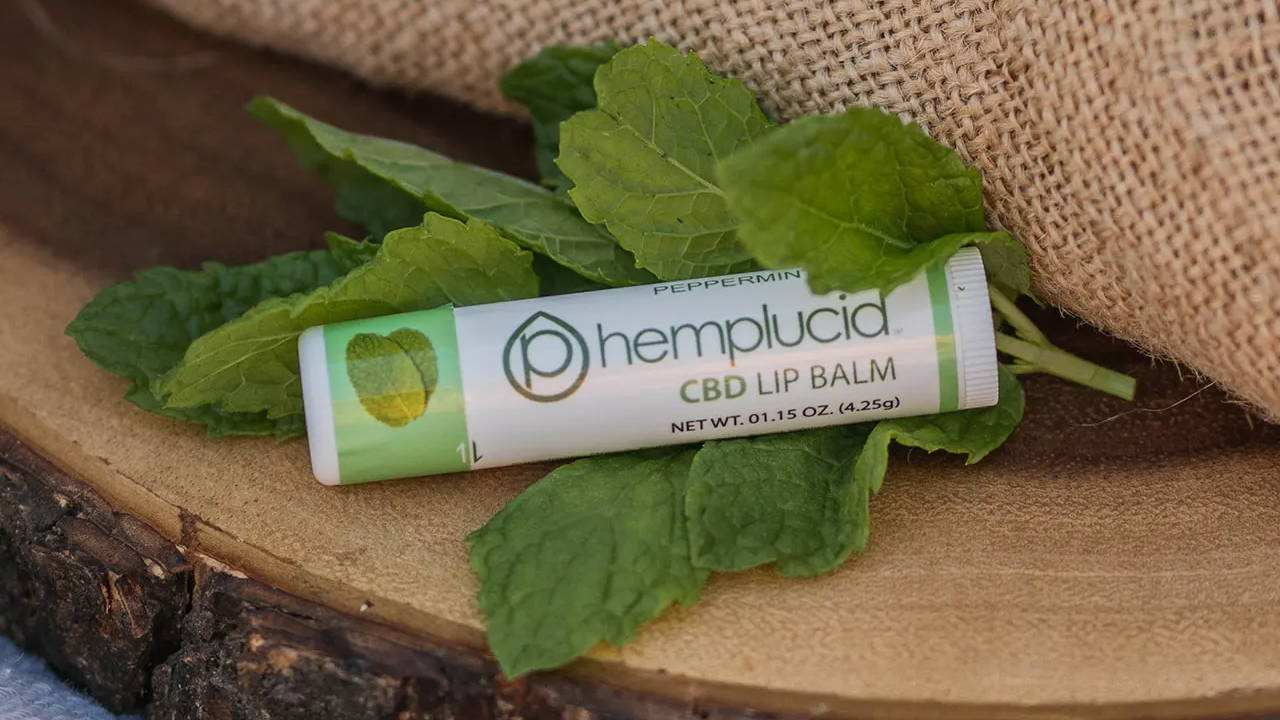 Hemplucid Lip Balm protects and soothes dry lips with 50mg of organic hemp-derived, full-spectrum CBD and other natural moisturizing ingredients.
Why 50mg of CBD per tube?
Many CBD lip balms enter the market with minimal cannabinoid content so they can catch the CBD marketing wave. That's not the case here—we believe in real results and effective products.
Cannabinoid receptors are present throughout the body and top layers of skin. The benefits of CBD can be enjoyed thanks to an interaction with these receptors when cannabinoids are absorbed into the skin and body.
And because these receptors are present in all areas of the skin, you can use our lip balm as a general topical in a pinch to help soothe targeted areas of the body.
Natural Ingredients to Soothe Dry Lips
While CBD is at the core of the benefits provided by our lip balm, several other natural ingredients also play a role in making Hemplucid CBD Lip Balm the perfect option for softer, healthier lips.  
Beeswax, cocoa butter, and shea butter work together to lock in moisture and help soften dry lips with natural fatty acids and antioxidants.
Beeswax is a wax produced by honey bees. It contains natural emulsifiers that protect lips by retaining moisture and may help block UV rays (much like a sunscreen).
Shea Butter is rich in fatty acids and antioxidants that can help restore a smooth, plump look to chapped lips.
Cocoa Butter is a natural emollient (softens skin) that contains antioxidants and provides a protective layer to help keep lips hydrated.
Organic Botanical Extracts
As mentioned previously, our lips don't produce their own oils. That's why we include organic botanical oils in our CBD Lip Balm.
Sweet Virgin Almond Oil nourishes dry, cracked lips and helps lock in moisture to plump and soften lips
Virgin Apricot Kernel Oil contains natural essential fatty acids that can improve lip barrier function while simultaneously softening skin.
Extra Virgin Coconut Oil moisturizes and protects lips from sun exposure with a natural SPF (sun protection factor).
Sorbitan Olivate is a natural emulsifier made from fatty acids in olive oil combined with sorbitol (found naturally in some fruits). It also helps clean and hydrate skin.
Vitamin E boosts circulation and promotes skin cell health to soften and refresh dry lips.
Hemplucid Lip Balm revitalizes lips with the soothing benefits of organic full-spectrum CBD and other natural botanical extracts. Plus, it can be used as a general topical to relieve targeted areas of the skin in a pinch.
Made with organic full-spectrum CBD

Leaping Bunny Cruelty-Free certified

USA grown & manufactured

Third-party tested

Less than 0.3% THC
Our CBD lip balm comes in three lip-smacking flavors: peppermint, cherry, and vanilla. Order one today, or try all three in a convenient 3-pack bundle.